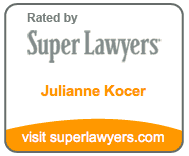 See what our clients are saying about us!

"Thank you very much for all your help and time while putting together my Will and Advance Directive. I really like how it is all organized by color, etc. My favorite is the flash drive. What a great idea!"
– Lorraine, client
"Thank you for taking the time to speak to our Kidney Cancer group. We appreciated your knowledge and expertise. Everyone learned a lot!"
– Julia & Art, clients
"I feel very fortunate to have you prepare these legal papers for me. Your advice and suggestions helped me through this new experience. I was 'at ease' from the moment we met and so I was much more comfortable in our discussions. If I were one of my younger nephews, I'd say the document presentation was awesome! In fact, I will say it – it is awesome! Everything we discussed and everything I wanted to accomplish is included."
– Dale, client
See what our colleagues are saying about us!
"I know Julianne Kocer, who is a well-respected Elder Law attorney. Julianne incorporates a holistic approach to her practice. She is knowledgeable, capable, and compassionate. I have no reservations in recommending Julianne to any potential client needing representation in Elder Law matters."
– Lynn St. Louis, Elder Law Attorney in Spokane
"Thank you for helping my friend. She has thanked me multiple times for giving your number to her. You gave her great peace. Thanks again."
– Kris Wilson, CPA EA
"I have known Julianne for many years. She is a very well-respected Elder Law attorney in the Seattle area. I would be happy to refer clients to her."
– Daniel Kellogg, Estate Planning Attorney in Renton
The information and materials provided in this website are for informational purposes only, and are in no way intended to constitute legal advice. Transmission or receipt of any information from this website does not create an attorney-client relationship, and you should not act or rely upon any information appearing on this website without seeking the advice of an attorney. Please note also that sending an e-mail to our office does not create an attorney-client relationship, and none will be formed unless there is an expressed agreement between the firm and the client.