Our firm is dedicated to preserving your assets to ensure quality care.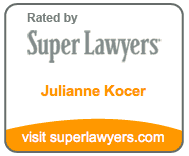 10 Signs That You or Your Family Need Help From a Qualified Elder Law Attorney:
Are you or is your loved one worried about not having enough money to pay for care?

Were you or was your loved one recently diagnosed with cancer, Alzheimer's disease, or other chronic condition?

Are you or is your loved one ill or disabled with children who live out of town?

Have you or has your loved one experienced a catastrophic event such as a fall, medication error, stroke, or heart attack?

Are you concerned about a loved one's care needs not being met?

Are family members confused about care options, what to do next, or where to get help?

Have you discovered your loved one wandering, malnourished, dehydrated, or unable to provide self care?

Are you or is your loved one hospitalized and being told you cannot return home?

Is your loved one silent about their care needs, or refusing help?

Are you concerned about yourself or your loved one not receiving quality care?
The Law Office of Julianne Kocer can Help
We offer a range of Elder Law and Estate Planning services that alleviate the stress of seniors, disabled persons, and adults, and their families. We have been servicing families of multiple generations for over a decade.
For more information, call the numbers above
or email us by visiting the Contact Us Page.
The information and materials provided in this website are for informational purposes only, and are in no way intended to constitute legal advice. Transmission or receipt of any information from this website does not create an attorney-client relationship, and you should not act or rely upon any information appearing on this website without seeking the advice of an attorney. Please note also that sending an e-mail to our office does not create an attorney-client relationship, and none will be formed unless there is an expressed agreement between the firm and the client.